When should you hire a storage container?
In addition to our portable site toilets and welfare units for hire; Karzees also have a fleet of steel site storage containers for your on-site needs. Our container hire services offer you the perfect solution for easy storage of tools and materials. All containers are fully secure and are supplied with armoured padlocks.  Storage container hire services are the perfect solution for keeping equipment and materials safe on site. Read on to find out more about our storage services.
Why Choose Site Storage?
There are several benefits when it comes to choosing storage container hire:
Flexible: Whether you plan on keeping your storage for short or long term use, storage containers give you the flexibility to store items for the exact length of time you need.
Secure: All containers come equipped with security latches and armoured padlocks to ensure contents remain secure at all times.
Organised: Rather than having equipment stored in various areas of your site, container hire gives you a temporary location to store everything you need in one place.
Convenient: Instead of storing equipment at an off-site location, our containers keep your items close by so you can quickly access them whenever you need them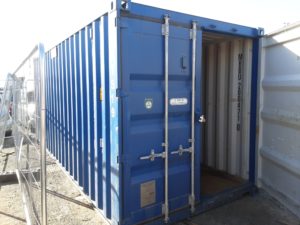 Uses for Storage Containers
Here are some of the advantages of hiring our storage containers :
Store deliveries of  building materials for construction and home building sites.

Secure storage of large plant equipment such as diggers.

Safe storage of temporary furniture whilst you carry out home renovations.

Convenient storage to easily access site equipment and small hand tools
What Options do we offer?
We offer three different sizes of storage containers.
Have any questions? Call us
Get in touch with us online or by phone to discuss your site storage requirements today.
Delivery of Site Storage
Our fully trained drivers will deliver all storage units to your site using our own Hi-Ab lorries. Each lorry comes equipped with a 50T metre crane for easy and safe placement. In addition, we can offer portable offices, canteens, drying units and other bespoke units based on your site requirements. Just get in touch with us to discuss your plans, and we will be happy to give you a quote.
Frequently Asked Questions
What is the minimum hire period?
You must hire all storage units for a minimum four week period.
Do I need planning permission for storage units?
No, these units are temporary and movable, so they do not require any planning permission.
Will I need a permit from the local authority to put my storage container on the road?
Yes, please contact your local authority before organising delivery of your unit.
Can I put a storage container on my driveway?
Yes, if you have enough clear space for delivery
What do I need to do before my storage unit arrives?
Make sure the site is clear of any potential risks before the lorry delivers your unit. This includes any overhead wires that could affect crane operation.
Can storage units be used for furniture items?
Yes, although you will need extra insulation and heating to avoid condensation.
Optional racking is also available.