Introducing the portable toilet
If you have a lot of people on site yet no access to basic facilities, then you have a huge problem on your hands. That is why a portable toilet is a perfect answer. Site toilets make sure that everyone has comfort, hygiene and privacy on site. Whether for a building site or a music festival, site toilets provide basic facilities even when there is no access to water and power. So, here are the ways site toilets can help out and the different types you can hire.
Benefits of Site Toilets
Keeps patrons happy: Not having enough facilities on site will prove very unpleasant for all those affected. While there may be public toilets nearby, they may not be enough to cater for the crowd, leading to long queues, poor hygiene and lost time. Having enough site toilets will keep everyone happy and avoid these issues.
Hygiene and sanitation: We know that toilets can get messy very quickly, so we regularly check, maintain and clean all site toilets to ensure the best levels of hygiene. Our units are all fitted with HSE compliant water sinks, hand sanitiser and toilet rolls to keep a high level of sanitation at all times.
Privacy: Not only do portable units allow patrons full privacy, they also remove the risk of patrons needing to relieve themselves on-site or on other people's properties.
Environmentally friendly: All our units are HSE compliant and fully self-contained. No power is needed for the cold water supply and no drainage is needed as units are emptied weekly.
Compact: We offer a range of portable units of different sizes, based on your site needs. We design all units to take up as little space as possible.
Affordable: Site toilets are designed to offer first-rate sanitation at a low cost. So we invite you to get in touch with us to find out about our competitive options.
Legal: It is a legal demand to provide basic sanitation on-site as you must comply with several health and safety requirements for workplaces, events and so on. Therefore, site toilets offer a simple and efficient way of keeping on the right side of the law.
Our Toilet Hire Options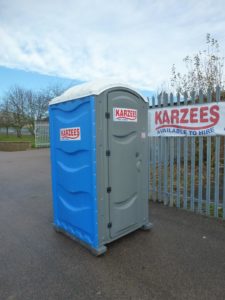 Single cubicle units with the cold water hand wash: Fitted with HSE compliant sinks and hand sanitiser.
Single cubicle units with the warm water hand wash: Just like our cold water units, but with the option of warm water when powered by a 110V transformer or generator.
Accessible units: Specially designed for those with limited mobility. Entry and inside space allows for wheelchair access plus optional attendant. Baby changing facilities are optional.
Urinal units: Walkthrough unit that allows for up to six male attendees at a time. Hand gel is fitted to all units. Pod urinals are also available.
Karzees
No matter what kind of event or worksite you have, we can provide portable toilets for any need. To find out more about our options for site toilet hire please get in touch with us today.